"Koru Care Christchurch provides special experiences for NZ children with serious and often on going medical conditions and or 

disabilities by providing 
opportunities which are educational, fun, personally empowering and a means of further developing their social and life skills set".
About Koru Care Christchurch:
Koru Care CHC, which is a registered Charitable Trust, has been active since 1985, it's hardworking passionate committee devote much of their spare time to fundraising and organising events and trips.
Koru Care CHC have taken away 812 deserving young people on our trips. 
Such an experience is educational, fun, personally empowering and a means of further developing their social and life skills set. It enables them to forget for a short time their own serious medical problems and enjoy themselves as children should.
It costs $6,000 per child with Air NZ gifting the seats to the young people. In addition to the carer support on the trips, two nurses and a doctor accompany the children and everyone is required to have travel insurance and fortunately this has never needed to be claimed.
For children unable to travel Air NZ, has put on special local flights over the past two years on a Dreamliner for the children and their carers.
The experiences we give:
On our trip we take the children to  visit to Seaworld, Universal studios, Knottsberry Farm, California Adventureland and DISNEYLAND.
Koru Care also work with local businesses to offer special local experiences which have included meeting the Crusaders plus a up-close experience at the Air New Zealand Hangar open day. The children get to hang out amongst some cool aircraft, view static displays and participate in fun activities including fire engines, bouncy castles and visit the engine workshop.
Our coverage area:
The Koru Care Christchurch region covers from Waimate, in the south, the West Coast of the South Island, Nelson and Marlborough and of course Christchurch city.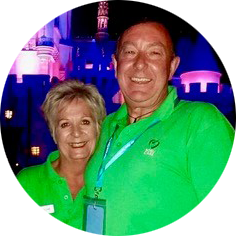 Chairman, Chris George
Secretary, Pauline George
Chris George has been Chairperson of Koru Care CHC for over 25. Pauline George has been Secretary for over 25 years.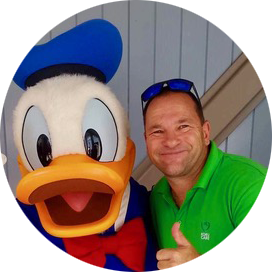 Ambassador, Gary Endacott
Gary Endacott boasts a sporting CV most could only dream of, but despite turning 50 last month the inspirational Cantabrian celebrated by volunteering as a carer on our 2018 trip to Disneyland.
"Mental Well Being is such a hugely important part of anyone's life and I suppose what Koru Care ultimately provides is a huge dose of well being delivered through an awesome once in a lifetime trip".